Natural Alleviation of Eczema and Rash Symptoms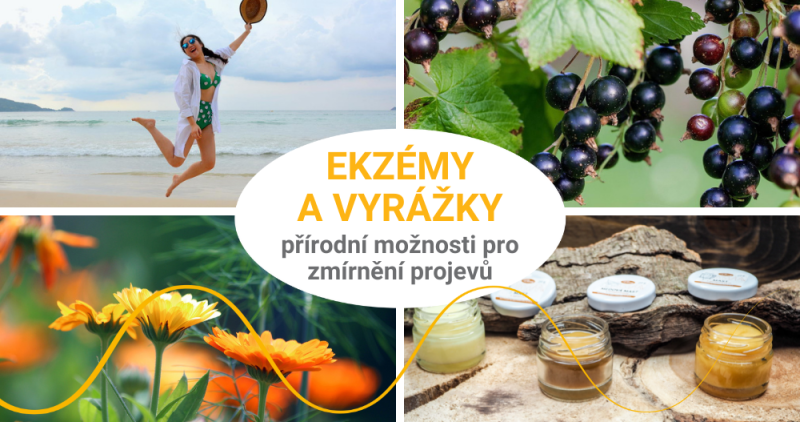 In this article, we will focus on treating and alleviating manifestations of eczema and rashes. In addition to the internal aspect of treating most skin problems, which is a proper lifestyle, we will look at what we can do for our skin from the outside - from special baths to ointment tips including the experience gained by our customers, to herbs.
Special baths and stay at the seaside
Baths can play a significant role in natural alleviating the symptoms of eczema. Today, you will most often encounter oil baths and protective oils before bath. A great example is tea tree oil, which not only has antiseptic properties and facilitates healing, but also helps to relieve itching.
Bran baths have great results especially for babies and smaller children.
In the past, bran and starch baths were used quite extensively. The decline in these two ingredients was mainly because they did not suit some patients, whereas almost no one has problems with oils. So, bran has never lost its effectiveness.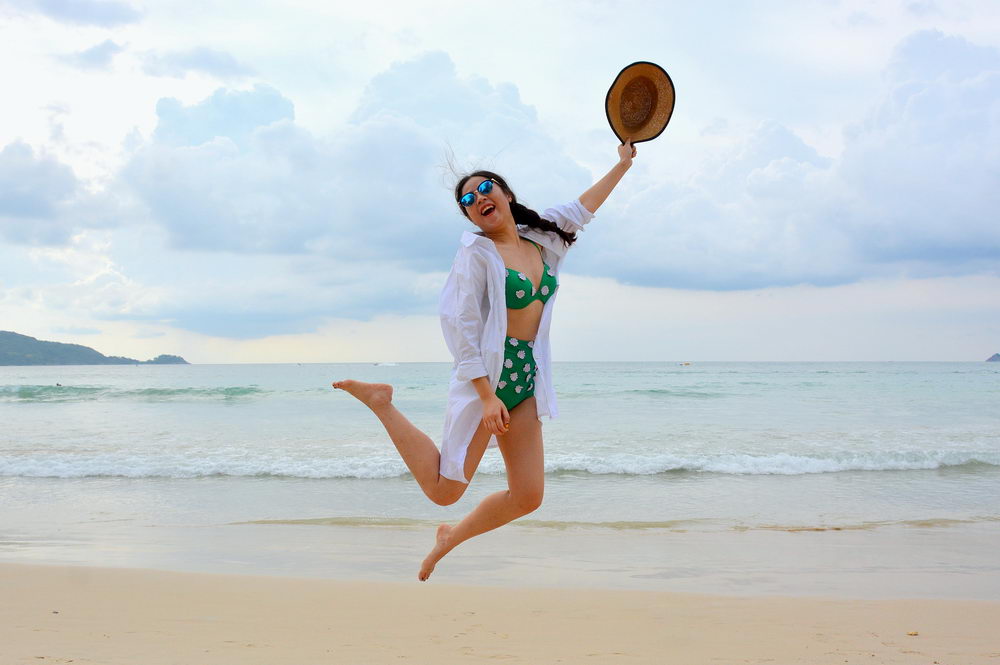 However, it is generally not a good idea to overdo it with bathing and showering - the ideal interval is one shower lasting up to five minutes every two to three days. After a quick shower. it is important not to put pressure on your skin, not to dry it roughly with a towel, but perhaps to wrap yourself in a nice cotton bathrobe, which will certainly dry you well without unnecessary scrubbing the body.
For people suffering from eczema or rashes, a stay at the seaside makes the treatment easier. A longer holiday, for example ten or fourteen days, is ideal, so that your body has time for all the important processes. Eczema and atopic dermatitis are usually aggravated by exposure to sea water in the first few days. It is only after a few days that they begin to improve or heal permanently. Skin can then remain healed for a different period - from a few weeks to many months. Depending on how long it takes for the skin to heal, atopic people and eczema sufferers can calculate how often they should go to the seaside.
Lubrication and natural cosmetics for sensitive skin
With eczema and rashes, it is very important to take extra care of your skin, it will definitely pay you back gradually as your condition improves. You can lubricate your skin with special ointments designed specifically for your type of rash or eczema. Hemp ointments and hemp oil, which can even be taken internally, are generally recommended. If you would like to include hemp products in your cleansing process, there are many very effective soaps with hemp oil ingredients or hemp itself. Another effective herbal remedy are gels or ointments with pot marigold and greater burdock, which are less well known in this field but very successfully used. Regular lubrication of the skin is also closely related to daily care of the skin itself.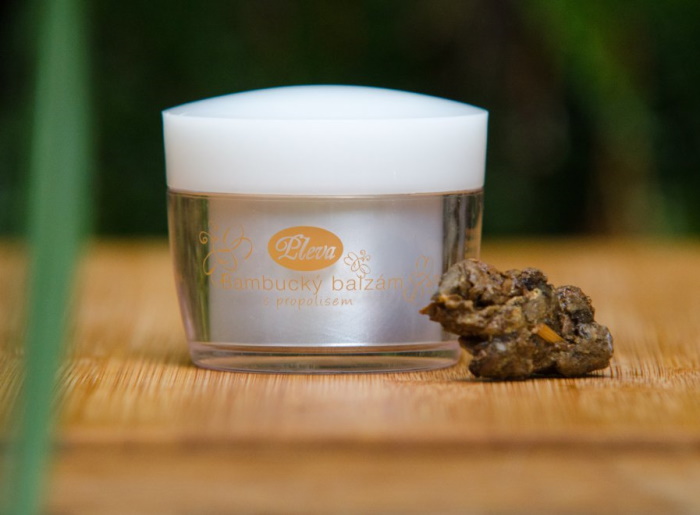 Our customers with sensitive skin often mention Shea Butter Balm With Propolis in connection with the effects of eczema. The effective help from nature stands out by combining shea butter and propolis extract.
Shea butter softens skin and gives it the necessary elasticity, while propolis extract has strong antiseptic and regenerative effects, therefore, it is especially suitable for problematic skin that needs to speed up the healing process and to prevent the appearance of incidental scars. Propolis extract also helps to increase permeability of the skin so that vitamins, fatty acids, antioxidants, and phytosterols contained in shea butter can more easily penetrate the skin.
Shea Butter Balm with Propolis has a wide range of possible uses - many of our customers use it as an effective night cream to nourish their skin, others use it as an all-purpose ointment for a variety of purposes, and another part of our customers use it to regularly lubricate problematic skin.
"For several months I couldn't get rid of rash that appeared on my face. I bought the shea balm just for that and it worked."
Andrea
"Shea butter balm with propolis is the best! It works against the eczema on my face 😍"
Martina
"The balm is perfect. Especially on the face and lips. It is also very effective against atopic eczema."
Eva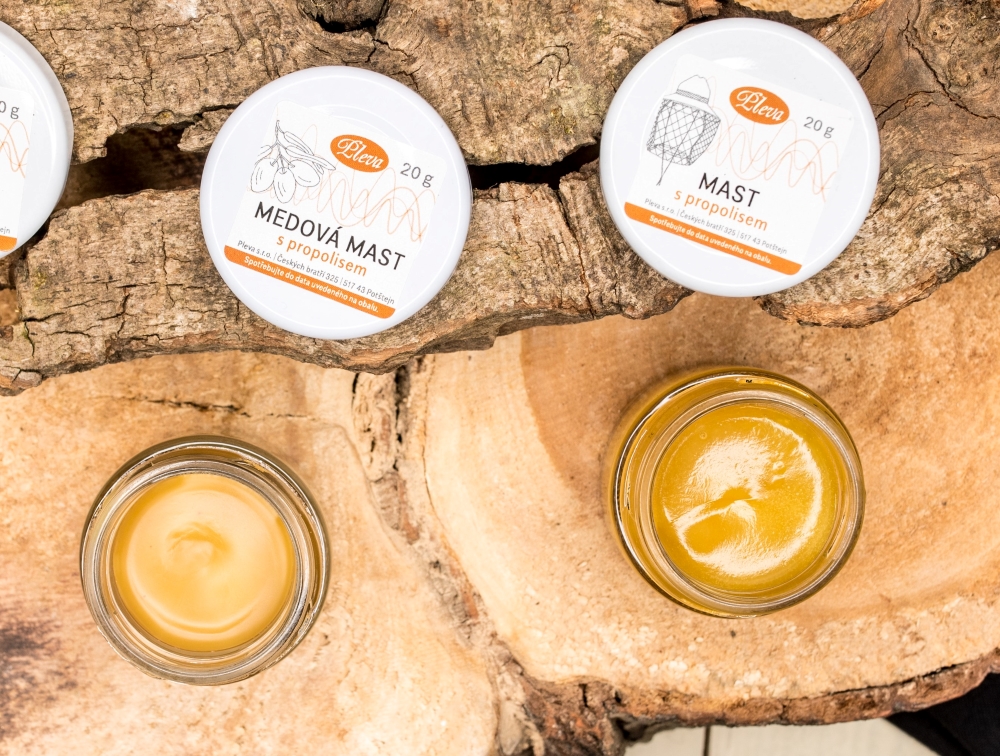 Our customers have also shared with us their experience with Ointment with propolis and Honey ointment with propolis. The basis of both ointments is also propolis, which helps to heal and alleviate difficulties.
"I can't praise enough the honey ointment with propolis. It is really a magical ointment; in two weeks the eczema in my palm, which I couldn't get rid of, disappeared. Excellent for cold sores, eczema, allergic reactions to metals. We always have it on hand and recommend it to everyone we know!"
Jitka
"A doctor treated me for "nickel eczema" and the condition did not improve even after six months. After reading your range of products, I tried the ointment with propolis. I was pleasantly surprised when after only one week there was no trace of eczema."
Hana
"After a year of struggling with eczema on my hands and feet and after trying various ointments from my dermatologist, I accidentally came across your ointment with propolis. I will not write here that it was won after a few days, but I have been using the ointment for three weeks now and my skin does not crack, does not hurt, does not itch, and the eczema is gradually disappearing. I am thrilled and thank you very much. I can only highly recommend it to everyone."
Vendula
"The propolis ointment was a gift and it helped far better than anything for irritated skin with eczema."
Jakub
"Propolis ointment is a unique tremendously effective ointment for any eczema."
Pavel
"I swear by honey ointment with propolis. What a little miracle! My daughter has atopic eczema, and the ointment heals it beautifully. Goodbye corticosteroids."
Klara
"Honey ointment with propolis heals minor wounds and those caused by eczema."
Anna
"I've been suffering from eczema on my hands for a year now, after several years, in the last month my hands and feet have been catastrophic; cracked, dry, painful, itchy. My mum gave me a propolis ointment, which was just lying around unused. Within three days my hands improved tremendously, my skin started to peel off, my wounds healed. For me this ointment is a miracle :). I am so relieved; I will recommend it everywhere!"
Denisa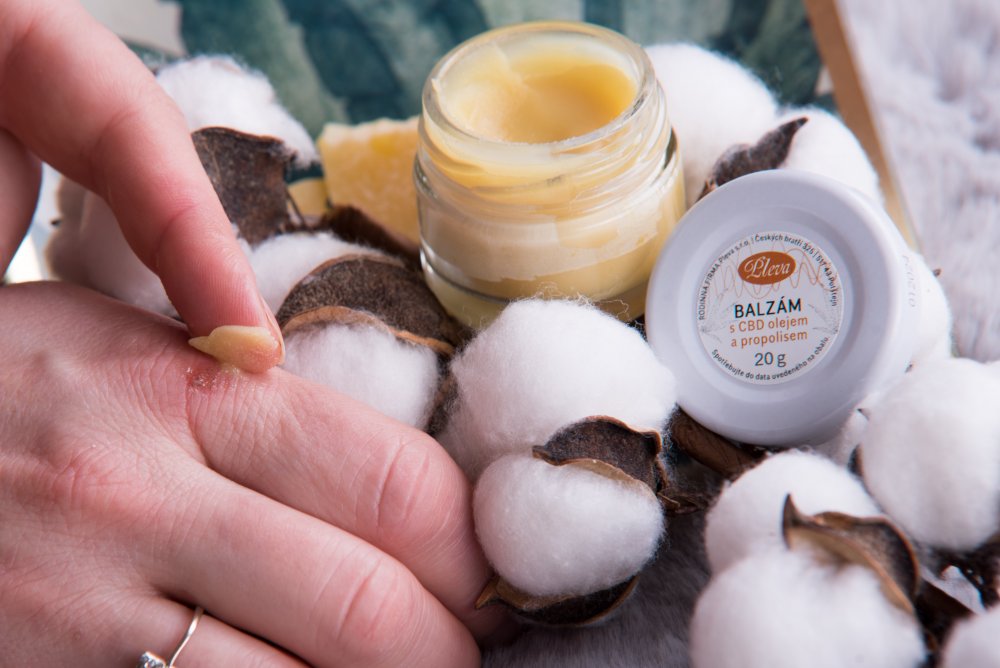 We can also recommend our new product - Balm with CBD Oil and Propolis, kwhich uses the synergy between propolis and CBD oil. It takes care of itchy areas, copes with slightly damaged skin, and is also very good for treating dry, hardened, and stressed skin. At the same time, it protects the skin and helps its regeneration. As this is a novelty, we can only add here one experience that one of our customers has shared with us:
"Pleasant on the skin. It helps me with hand eczema and psoriasis. A friend of mine has tried it and he has also seen an improvement; the spots got smaller. It doesn't stick like other balms. Natural composition, great combination of CBD and propolis, pleasant scent, hydration, and nourishment. Really works :-) (and that I have tried many ointments, even more expensive)"

Eliška
Diet and lifestyle
Skin problems may also be related to the overall state of your immunity, which is why you should strengthen your body with a varied and balanced diet. Omega-3 fatty acids, which are found in fish oil, evening primrose oil, and linseed oil are particularly helpful for skin. Vitamins A, E, and D should be abundant in diet, but also zinc, which strengthens the function of the immune system and supports healing. A healthy lifestyle in general, especially quality rest in a quiet and peaceful bedroom, also contributes to the improvement of skin suffering from eczema. This is where you should also keep an eye on humidity - if it is insufficient due to central heating, make sure you get a humidifier or suspended vessels with water on the radiator. The air will be wonderfully humidified, and you will sleep better. It is rest and enough sleep that has a beneficial effect on eczema.
If you're already using gloves when eczema or rash appear, you should put on two gloves at once. First, undyed cotton gloves to protect the skin and only then classic rubber gloves.
In addition to this, always look for trigger factors and try to avoid them. As a precautionary measure, you should also avoid perfumed chemical soaps and unsuitable irritants for dishwashing and cleaning. In general, it would be best to use gloves for washing dishes and cleaning, as contact with water and the associated subsequent drying of the skin is not the best thing for problematic skin. Another option is to use natural and non-perfumed soaps and natural washing and cleaning products.
Herbs and herbs again
You can use herbs in baths; focus on finding the "right ones" when choosing soaps or use them to support the healing of eczemas and rashes on their own.
The famous Czech herbalist Jarmila Podhorná recommends focussing on deoxygenation of the organism, which will be helped by velvet shank and blackcurrant buds. The tincture of both is recommended to be dosed daily in the amount of two to six drops. She also mentions the effects of greater burdock and burdock oil. Of the herbs suitable for bath mixtures, she points out comfrey, burdock, and couch grass. Among herbs, blackcurrant, specifically the extract from its buds, is renowned for boosting immunity and healing the skin. But other herbs also help: elderberry, marigold, holy basil, English walnut, or rooibos.

We wish you to find just the kind of natural help that your body needs among the above tips. Whether you sunbathe at the seaside for two weeks or opt for a change of diet and herbal support, we believe that natural relief from the symptoms of eczemas and rashes will help with overall healing and general improvement of your skin condition.
---
Not found what you were looking for? Visit our advice website for answers to the most frequently asked questions on this topic.
Alternatively, you can ask your question here, we will be happy to advise you!
---