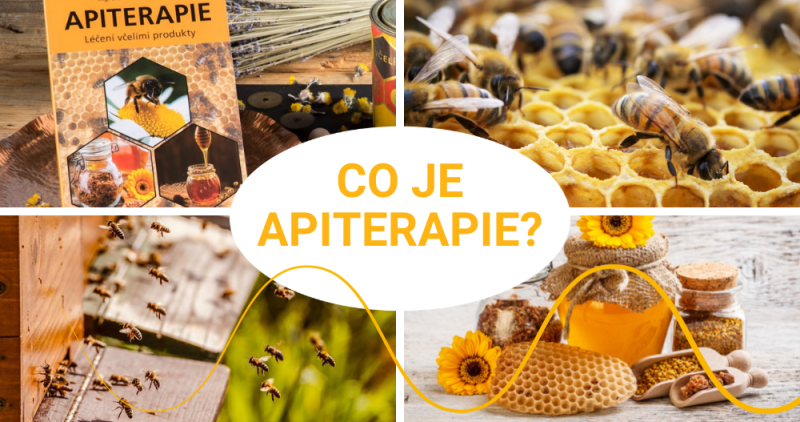 The term "apitherapy" may sound very mysterious, but there are many things that are close to us hidden behind it. Even close enough that many of us undergo apitherapy every day without knowing it. The Latin name for bee is Apis, so now it is definitely getting warmer :-)

Apitherapy is a healing method that uses the beneficial effects of bee products. They are used not only for healing, but also as prevention to support and stimulate the body and the entire immune system.1 The following bee products are used in apitherapy: honey, propolis, royal jelly, flower pollen, beeswax, and bee venom. So just go for a honey massage or use a cream with royal jelly or ointment with apisin, and we are already head over heels in apitherapy. Of course, this is exaggerated - apitherapy is very comprehensive and can solve even very difficult problems.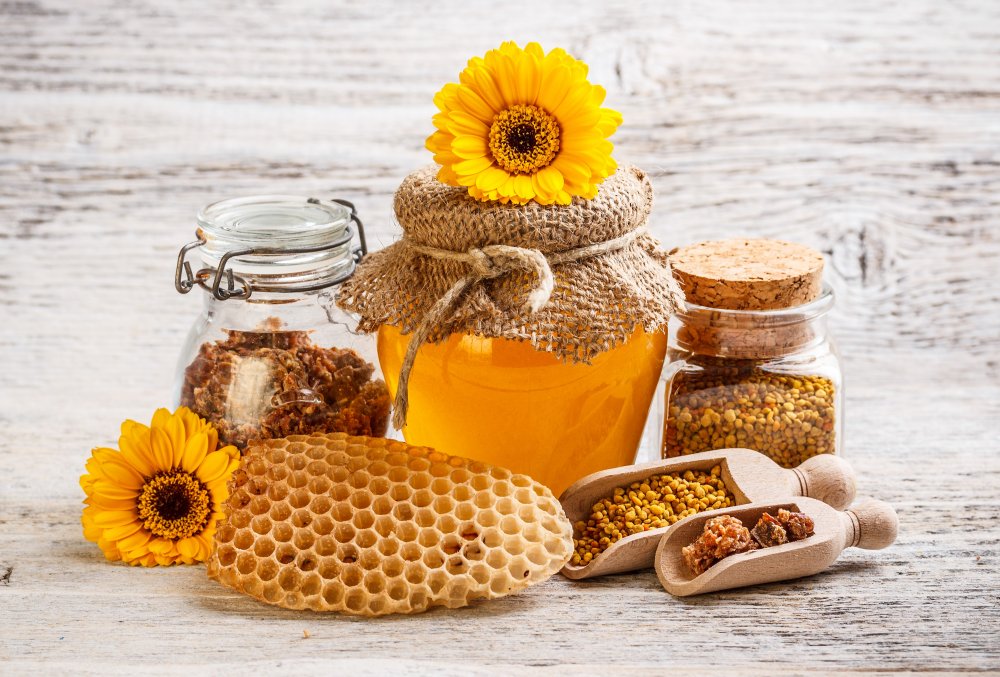 People have been noticing the effects of bee products and trying to use them to their advantage since the time immemorial, in fact, since the time when they recognize bees. Initially, this was done rather unconsciously, but over time bee products began to be used purposefully in folk medicine. To give you an idea, the earliest evidence that man has been collecting honey since very ancient times is a cave painting from around 12,000 BC found in Spain, which shows a figure taking honey from wild bees.
Folk recipes on how to use individual bee products for various health problems were passed down by our ancestors from generation to generation. As a result, bee products have been used for several millennia and many of their effects are now supported by scientific and clinical studies. You can read more about the history and current use of bee products in this article.
In a simplified way, apitherapy can be divided into two areas. One of them includes procedures using bee products, which we often do not even realize that they fall under a healing method. These include adding honey to tea when you have a cold, using cosmetic products, ointments, or food supplements with bee products, or relaxing with a honey massage. The second part is an area that should always be in the hands of an expert - an apitherapist. This includes mainly the application of bee venom and then also cases of specific health problems, when the apitherapist recommends and sets up a therapy tailored to the problem, considering the overall health condition, possible contraindications, allergies, etc.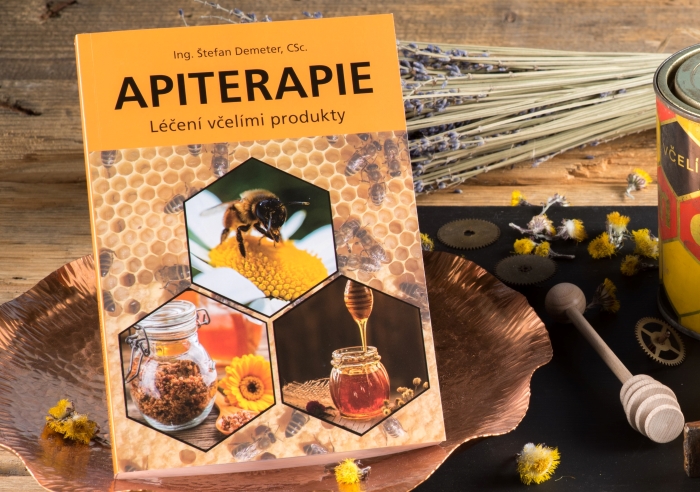 An excellent guide to the world of apitherapy is a wonderful book Apitherapy - treatment with bee products Ing. Štefan Demeter, CSc. by Štefan Demeter (in the Czech language). It is a fountain of information on bee products and their uses from healing to prevention.
For example, bee venom (apisin) with its anti-inflammatory and analgesic effects finds application, among other, in a treatment of arthritis, rheumatism, inflammation, and joint diseases, locomotor disorders, sclerosis and multiple sclerosis, or gout.2 To learn more about bee venom and its effects, see the article What is apisin?
Propolis has anti-inflammatory, antibacterial, antiviral, and anti-tumour effects. For instance, it helps against tooth decay, periodontal disease, hair loss, the fight against fungus, abrasions, and burns, treatment of skin diseases, warts, or to strengthen the immune system.3 Learn more about propolis, its effects and uses in the article What is propolis?
Royal jelly has a very positive effect on the human body, both in sick and healthy people. For example, it supports the immune system, has a beneficial effect on the brain, normalizes blood pressure, helps in the recovery after severe illnesses, injuries, and surgeries, after cerebrovascular accidents, in degenerative diseases such as Parkinson's or Alzheimer's disease, in menopausal problems, in the treatment of depressive conditions, anaemia, smoothens and rejuvenates the skin, and is effective in a number of skin conditions.4 Learn more about royal jelly and its use in the article What is royal jelly?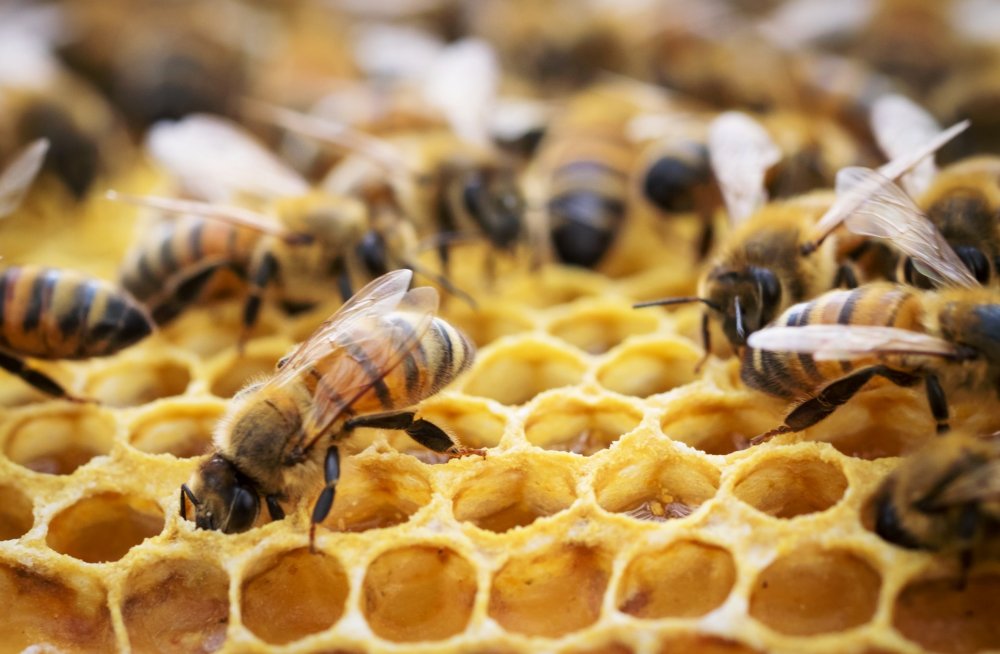 We all know the effects of honey for colds, coughs, for replenishing energy, or for better sleep. The use of honey in skin care has been known since the time of Cleopatra; it has moisturising and hydrating effects, nourishes the skin, erases wrinkles, but also helps against various eczema and skin diseases. The antiseptic effect of honey is used in burns, ulcers, and bedsores, and helps wounds heal faster. Honey should be an essential part of nutrition because it slows down the ageing of the body and is good for strengthening the immune system.5 The therapeutic uses of honey are very broad, read more in the article What is honey?
Flower pollen is successfully applied in the prevention and treatment of general exhaustion of the body and mental fatigue, it is used to treat hay fever, thanks to the use of pollen, older people maintain physical and mental condition and a good memory till the old age.6 For more information on pollen, its effects and uses, see the article What is pollen?
Beeswax is used as a base to produce ointments, creams, and balms, it forms a protective layer on the skin and gives it a smooth and soft appearance. Beeswax is also used to prepare warm compresses to help increase local blood circulation. These are recommended in chronic conditions of rheumatic origin, for arthrosis, muscle contracture, joint and back pain, or cellulite. The most well-known use of beeswax is the production of candles, less well known is the fact that inhaling burnt beeswax has beneficial effects on the body.7 Read more about beeswax and its uses in the article What is beeswax?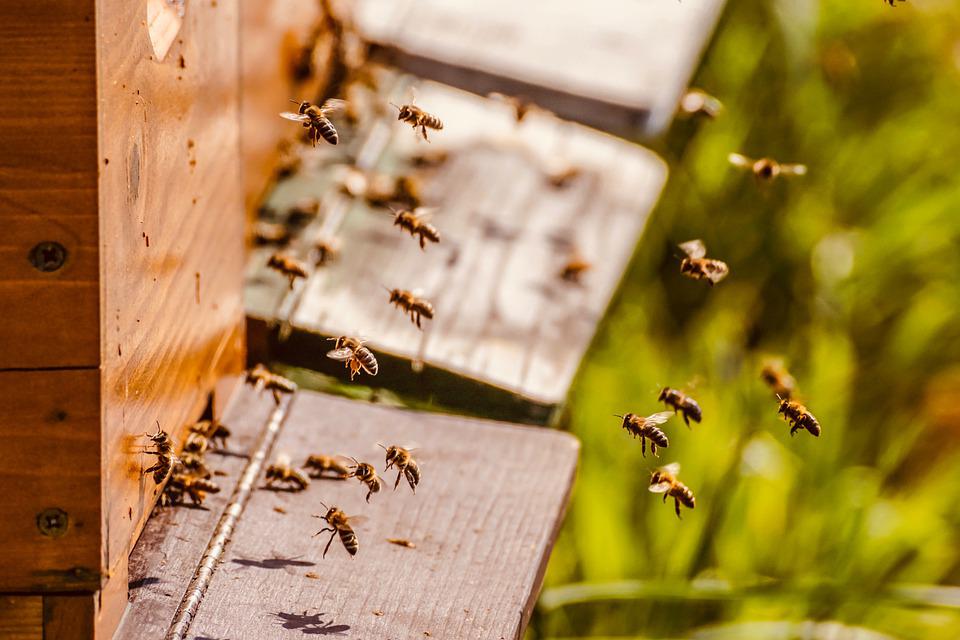 Bee radiation can also be included among bee products, although it is still a rather unexplored area. According to many authors, it has been proven that a bee colony, which fully occupies one or more supers, emanates some sort of radiation into the surrounding area, which has a healing effect on humans. According to these authors and the practical experiments of other people, bee colonies can positively influence water or other media and, consequently, the health of the person who consumes food influenced this way. In the beehive, a certain kind of bee radiation is produced and can be detected up to several tens of metres away from the hive. It is probably the emanation of the magnetic field of bees. Many people are therefore trying various methods to harness this energy. For example, water for direct consumption is put into a beehive for irradiation, but also staying close to a beehive brings better mental and physical condition, sleeping on the hives in the apiary is also used.8
In combination with bee radiation, inhalation of beehive air also has a positive effect on the human body. The beehive environment is generally said to be more sterile than the operating room. The hive also releases components from gathered nectar, pollen, royal jelly, and vapours from propolis and wax, and if we know that the influence of bee products works in symbiosis with the needs of humans, then the climate in the hive is indeed very healing, although this fact is not yet fully supported by science. Healers who use this form of healing speak of its success, especially in diseases of the upper respiratory tract, bronchi, lungs, headaches, and other problems.9
Apitherapy is considered to be an alternative type of medicine, it has been used since the ancient times and nowadays it is enjoying considerable attention again. However, it is also necessary to take into account that each of us is different and the effectiveness of bee products is not the same for everyone - in some they help immediately, in another partially, for other the therapy is longer, and allergic reactions can also occur, although they are not very common (only about 0.5% of people suffer from allergies to bee products).10
---
1 Czech publication: Ing. Štefan Demeter, CSc.: Apiterapie: Léčení včelími produkty; Jaroslav Čadra, Olomouc, 2021, p. 9 (předmluva) Back
2 Czech publication: Ing. Štefan Demeter, CSc.: Apiterapie: Léčení včelími produkty; Jaroslav Čadra, Olomouc, 2021, p. 135, 145 - 150 Back
3 Czech publication: Ing. Štefan Demeter, CSc.: Apiterapie: Léčení včelími produkty; Jaroslav Čadra, Olomouc, 2021, p. 86 - 88 Back
4 Czech publication: Ing. Štefan Demeter, CSc.: Apiterapie: Léčení včelími produkty; Jaroslav Čadra, Olomouc, 2021, p. 113, 114, 117, 118, 124 Back
5 Czech publication: Ing. Štefan Demeter, CSc.: Apiterapie: Léčení včelími produkty; Jaroslav Čadra, Olomouc, 2021, p. 13, 18, 34 Back
6 Czech publication: Ing. Štefan Demeter, CSc.: Apiterapie: Léčení včelími produkty; Jaroslav Čadra, Olomouc, 2021, p. 72 - 73 Back
7 Czech publication: Ing. Štefan Demeter, CSc.: Apiterapie: Léčení včelími produkty; Jaroslav Čadra, Olomouc, 2021, p. 156, 157, 162 Back
8 Czech publication: Ing. Štefan Demeter, CSc.: Apiterapie: Léčení včelími produkty; Jaroslav Čadra, Olomouc, 2021, p. 208 - 210 Back
9 Czech publication: Ing. Štefan Demeter, CSc.: Apiterapie: Léčení včelími produkty; Jaroslav Čadra, Olomouc, 2021, p. 212 Back
10 Czech publication: Ing. Štefan Demeter, CSc.: Apiterapie: Léčení včelími produkty; Jaroslav Čadra, Olomouc, 2021, p. 18 Back