Mission of the company Pleva
Mission of the company Pleva
"We want to meet people's needs and o er them corresponding products."
Why do we exist? To mediate the healing eff ect of the bee products. We are mediators between nature and customers. We deliver the nature products of the high quality to our customers. What is

our goal? The satisfi ed and healed customer who comes back to us with trust and who think about us as a fi rst solution of his or her problems.
Our basic values:
Pleva is respectable brand which processes material exclusively from the domestics production and is responsible to the environment.
Vision of the company Pleva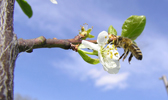 Our goal is healthier, more beautiful and thus more satisfied customers. That is why we want to introduce them the healing power of bee products and give them the opportunity to buy them on more and more places. We provide them with the top quality. We pledge to fulfi l the wishes of the customers by launching new demanded products. We are the honest company responsible to the environment. We buy
honey just from domestic producers, recycle, use alternative sources of energy and support the charity.