Decolletage cream with honey
• Strengthens the skin
• Enhances self-confidence
• Contains antioxidants and honey
Více informací
Detailed description
Enjoy your finest dresses again!
"It is not necessary to let your happiness be spoiled when looking at the tired skin of the decolletage after you have bought a new piece of clothing. We have prepared this special day cream for you to firm your skin, moisturize it and regenerate it so that you can look forward to the new dress. The cream contains besides honey also date extract, the extracts from algae and Gatuline In-Tense – all very effective substances, which effectively smooth the wrinkles. In addition, the cream also reduces pigment spots and slows down the aging process."

Hanka Plevová
founder of the family company
Suitable for normal and semi-dry skin
Suitable for normal and semi-dry skin
Beautiful decolletage
Most women are worried over time because of tired skin and wrinkles on their face. Little attention is paid to the cleavage, though this area is often looked at. The decolletage is also very much affected with sunrays, wind and strain on chest.
This cream helps to regenerate the cells, supports the elasticity of the skin and removes skin folds. Throw away the roll-neck sweater and be proud of your cleavage – it can look attractive even at 35 years, at an age when we can already feel the deficit of the collagen.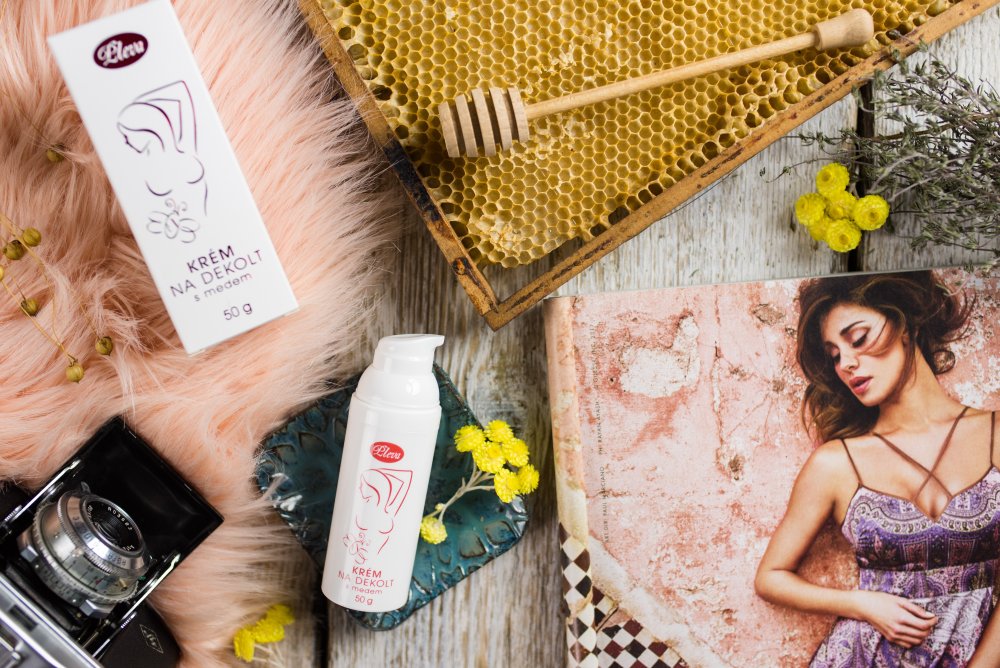 Honey and date extract
Our intention was to make a cream purely natural and use natural ingredients as much as possible. Therefore, our honey could not have been missed either. Another important ingredient is d'Orientine S date extract – this is the one that stands behind the antioxidant effects and significantly helps to smooth out wrinkles
Get rid of fading skin and boost your self-confidence. The Decolletage Cream ensures that your favourite pieces of clothing do not have to stay in the wardrobe. 
EPS White
A special extract from algae, EPS White, is the first active ingredient that can reduce the occurence of pigment spots. Such spots are caused for example by polluted air or various inflammatory processes. EPS White balances the color of the skin and the spots gradually disappear.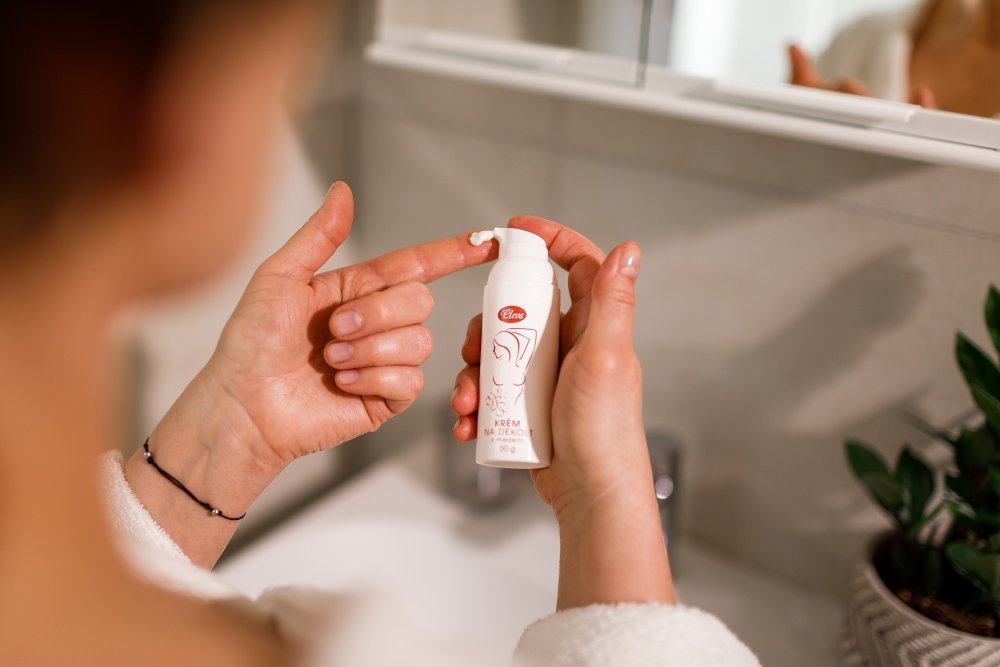 Gatuline In-Tense
When producing this pure natural cream, we have paid attention to the maximum use of natural components. Our honey is not to be missed. Another important component is an extract of dates – it has an antioxidant effect and smooths the wrinkles.
Get rid of tired skin and strengthen your self confidence! Our decolletage cream ensures that your favorite dresses do not have to remain in the wardrobe anymore.
Pentavitin
Regulates and maintains skin moisture in any conditions. It is a highly effective skin moisture regulator that works even in the driest regions where traditional moisturising substances and agents lose their effectiveness. At the same time, it reduces skin dryness and irritation in the long term. You can find more about Pentavitin here.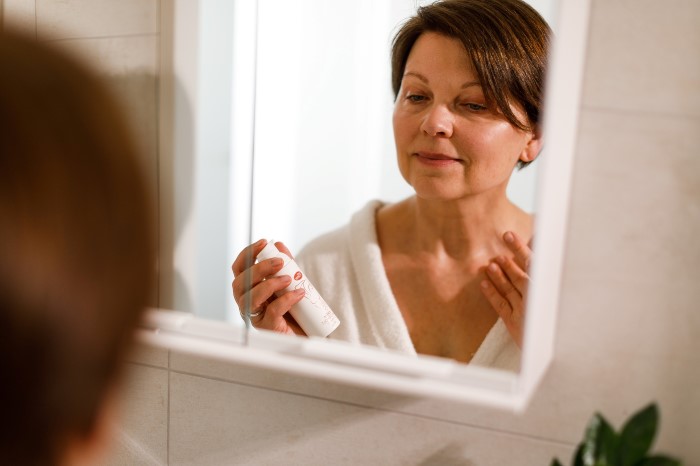 Directions for use
The cream should be applied daily in a thin layer on the neck and shoulders. Fast absorbing, not greasy. For long-term regular use.
Natural ingredients
This product is completely natural and contains only natural substances. They come from renewable sources and have been produced very carefully. More information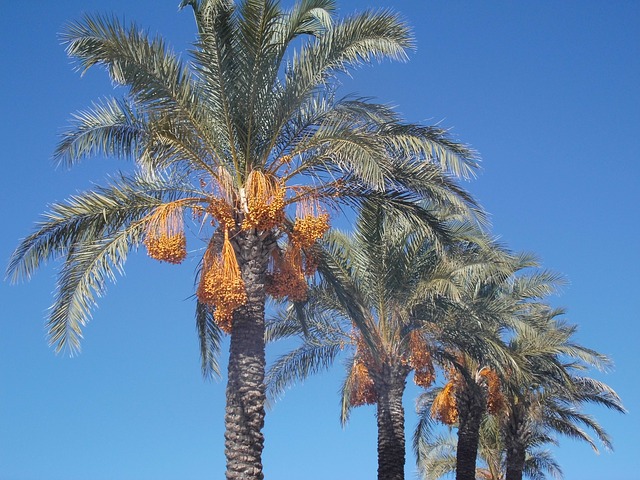 Date extract
We know the date palms mainly grow in warm countries, often in Africa, Australia and Mexico. Apart from an excellent spread from the fruits, dates have been used also for other purposes – an extract of ripe dates has a very beneficial effect on the skin.
We have blended this delicate, slightly oily liquid with a sweet smell as a main component into the cream to smooth the wrinkles. It softens the skin, makes it supple and helps to regenerate it, so that not only the process of aging is slowed, but the skin is actively rejuvenated at the same time.
Ingredients
Aqua, Cetearyl Olivate, Sorbitan Olivate, Caprylic/Capric Triglyceride, Olive Oil Decyl Esters, Rosa Canina Seed Powder, Macadamia Integrifolia Seed Oil, Saccharide Isomerate, Mel, Benzyl Alcohol, Phenylpropanol, Benzoic Acid, Squalene, Glycerin, Cetearyl Alcohol, Parfum, Cetyl Palmitate, Sorbitan Palmitate, Dehydroacetic Acid, Spilanthes Acmella Flower, Sorbitan Oleate, Phoenix Dactylifera Seed Extract, Citric Acid, Sodium Citrate, Brassica Campestris Sterols, Phenethylalcohol, Tocopherol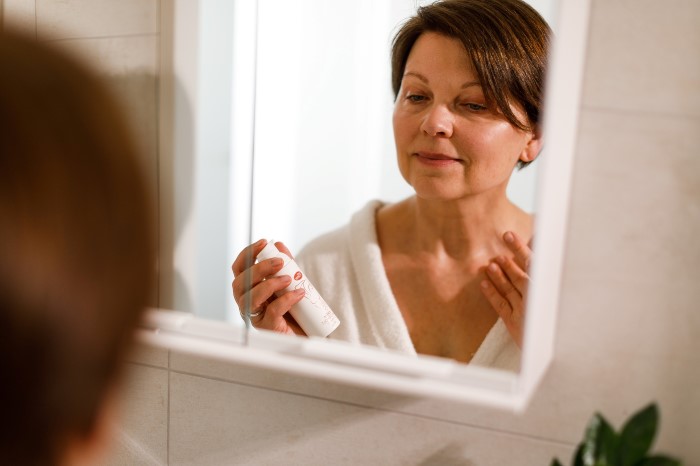 Directions for use
The cream should be applied daily in a thin layer on the neck and shoulders. Fast absorbing, not greasy. For long-term regular use.
Natural ingredients
This product is completely natural and contains only natural substances. They come from renewable sources and have been produced very carefully. More information


Discussion