Skin cream with royal jelly
- Weight: 50 g
• absorbs quickly into the skin and leaves no greasy feeling
• a natural, moisturizing and renewing cream
• suitable for dry and normal skin
Více informací
Detailed description
Velvety skin
"A light cream, very beneficial to the skin because of its natural ingredients. Royal jelly slows down the aging process and reduces wrinkles. The effect of the cream is strongly supported by three natural oils. It absorbs quickly into the skin, leaves no greasy feeling and provides the skin with the necessary moisture. It has a visibly regenerating effect, supplies the skin with nutrients and ensures good blood circulation. Ideal for dry and normal skin."

Hanka Plevová
founder of the family company
Suitable for normal and semi-dry skin (25–40 years).
Suitable for normal and semi-dry skin (25–40 years).
Royal jelly renews the skin and reduces wrinkles
Royal jelly is a natural source of nutrients with a wide range of effects. It is very beneficial and can smooth fine wrinkles. That is why royal jelly is an important part of our anti-wrinkle day cream.
Sooner or later, every woman begins to worry about her wrinkles. The first wrinkles are visible at the age of twenty-five, but only few young women deal with them. At the age of thirty, the natural loss of collagen, the drying out of the skin and the first small wrinkles are more clearly recognizable. Women are beginning to look for a suitable cream that can moisturize the skin sufficiently and provide it with nutrients, as well as reduce the first wrinkles. From this point on, an anti-wrinkle cream should already be a part of the daily care.
Our natural skin cream with royal jelly makes your skin soft and supple all day round and has a positive effect on blood circulation and the reduction of wrinkles.
A skin cream that absorbs quickly
Our skin cream with royal jelly is very light and quickly absorbs into the skin. You can use it as a make-up foundation in the morning or in the evening as a nourishing cream after having removed make-up. Suitable for semi-dry and normal skin.
Apricot kernel oil for youthful skin
The pure oil made from apricot kernels contains a larger percentage of unsaturated fatty acids than most other oils. The unsaturated fatty acids in an appropriate amount are beneficial for the skin and give it a youthful appearance. The oil also contains linoleic acid, which relieves the symptoms of acne and moisturizes dry skin. The oil is very light, absorbs quickly and provides the skin with high doses of provitamin A.
Macadamia oil – a treasure of nature
Macadamia oil has a unique property. It contains the same amount of palmitic acid as our protective skin film. The amount of this acid in human skin gradually diminishes due to the effects of aging, injuries or adverse weather conditions. The skin loses its natural protective function and dries out slowly.
Macadamia oil balances the amount of this acid and the skin is thus moistened and renewed. This oil is often used for the care of dry, cracked skin or skin weakened in winter by adverse weather conditions. The oil absorbs wonderfully into the skin and does not leave an oily film on its surface.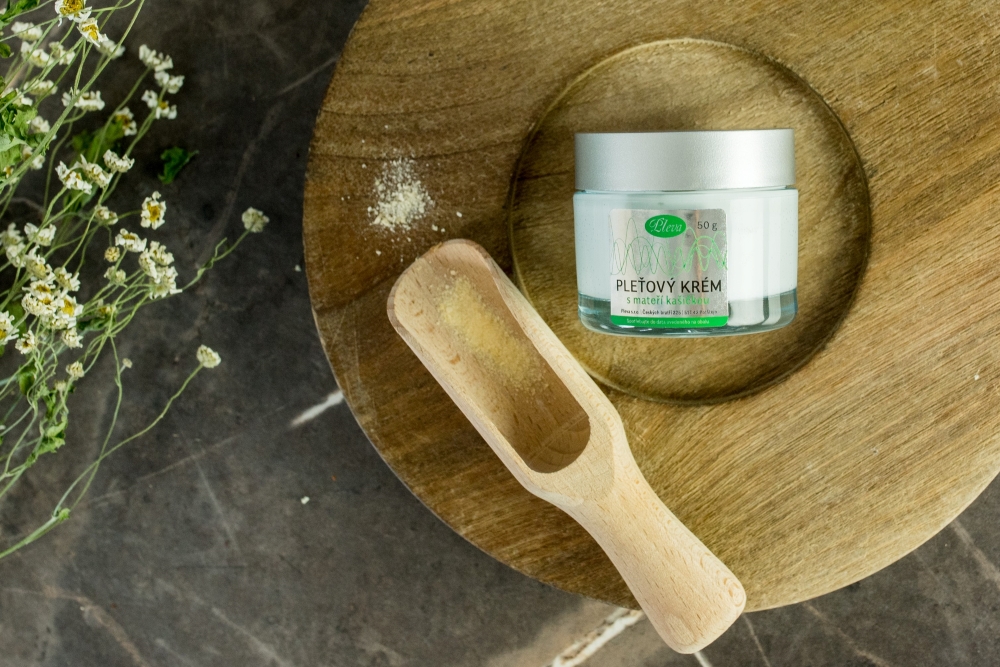 A natural emulsifier made from olive oil
Olivem 1000 is a natural, clinically tested emulsifier made from olive oil that supports long-term moisturizing of the skin. It renews the structure of the skin and supports its protective functions, prevents the effects of adverse weather conditions and slows down the aging of the skin. Olivem 1000 accelerates and facilitates the absorption of the active substances from the cosmetic products and moisturizes the deeper skin layers. The emulsifier forms the so-called "liquid crystals", which bind the active substances and ensure their effective transport into the deeper layers of the skin.
It is rapidly absorbed
The skin cream with the mother slurry has a very light consistency, which is absorbed very quickly. You can use it right in the morning under make-up or vice versa on make-up skin after coming home.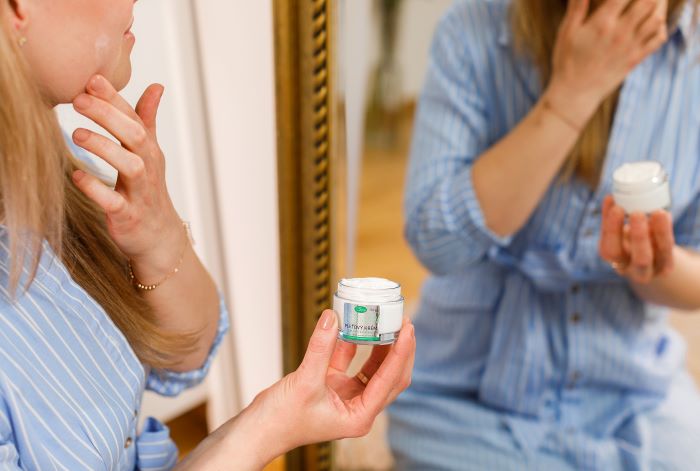 Directions for use
Use skin cream with royal jelly as a day cream. Always apply to already cleansed skin without make-up. It is very suitable both as a basis for a day make-up and as a skin care cream after removing make-up.
Natural ingredients
This product is completely natural and contains only natural substances. They come from renewable sources and have been produced very carefully. More information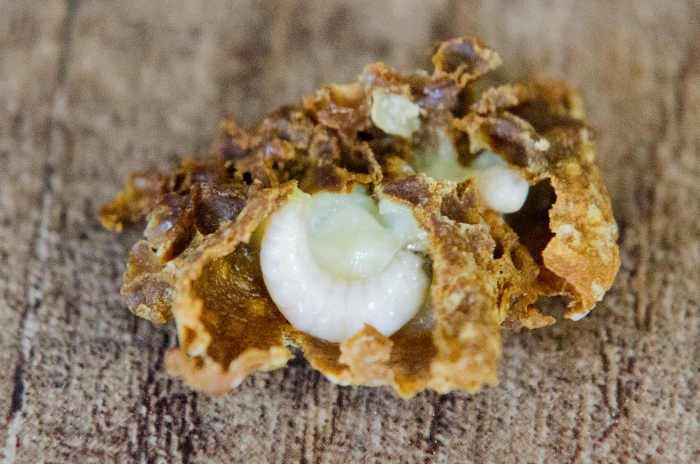 Royal jelly straight from the queen bee
Royal jelly has a truly unique effect and is therefore only enjoyed by the most important bees in the beehive. These are the workers, the drones and the queen bee. The larvae are fed with royal jelly only the first three days of their life. While the average workers live for a maximum of a few months, the queen bee reaches an age of 3 to 5 years because it is fed with royal jelly and is particularly strong because of that.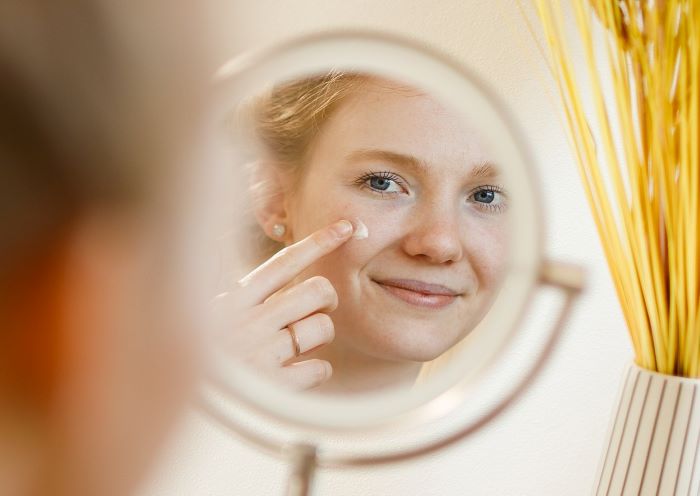 Daily face cream
Your skin needs protection, moisture and nutrients. The skin, just like the body, has to be protected against unfavorable influences of the weather. In winter, people protect their bodies with warm clothes. But their skin also needs some protection from wind, cold, dryness and sunrays. Our daily cream that should be an important part of your basic cosmetics creates an important protective layer on your skin.
If you do not use make-up, we recommend to treat your skin with a moisturizing and nourishing cream every morning. The same applies to women who like to wear make-up – it is very important to use a high-quality cream as a basis. Apply the daily cream several times per day. You will be rewarded with a healthy and well protected skin.
Ingredients
Aqua, Coco-Caprylate,Prunus Armeniaca Kernel Oil,Cetearyl Ethylhexanoate, Glycerin, Sorbitan Olivate, Cetearyl Olivate, Macadamia Integrifolia Seed Oil, Cetyl Alcohol, Cetearyl Alcohol, Benzyl Alcohol, Phenylpropanol, Cetyl Palmitate, Benzoic Acid,Sorbitan Palmitate, Royal Jelly, Tocopherol,Caprylyl Glycol, Sorbitan Palmitate, Sorbitan Oleate, Parfum, Dehydroacetic Acid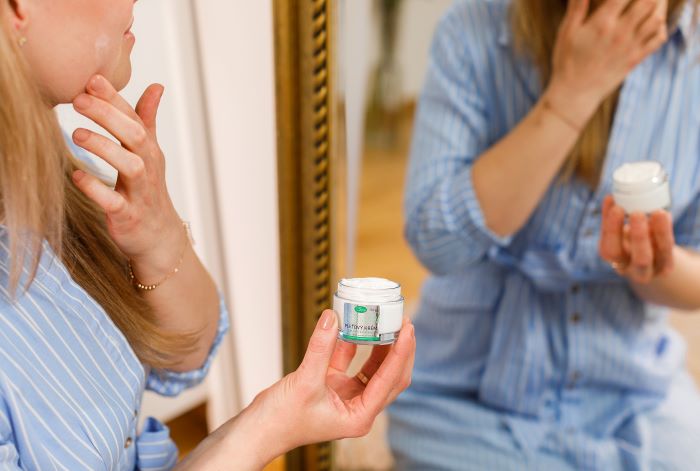 Directions for use
Use skin cream with royal jelly as a day cream. Always apply to already cleansed skin without make-up. It is very suitable both as a basis for a day make-up and as a skin care cream after removing make-up.
Natural ingredients
This product is completely natural and contains only natural substances. They come from renewable sources and have been produced very carefully. More information


Discussion